How do you become an expert in SEO?
From starting as a freelancer to reading and learning, here are 11 answers to the question, "How did you become an expert in SEO?"
Freelanced as a Content Writer
Migrated from a Different Department
Watched Videos and Implemented the Lessons
Used My Own Website to Test My Knowledge and Skills
Hired a Teacher
Practiced to Make Perfect
Was Hit by Google Core Updates
Went Through Plenty of Experimentation
Bought Courses and Took Action
Cultivated Curiosity
Found Free Information Online
Freelanced as a Content Writer
My journey to become an expert in SEO began when I started working as a freelance content writer in college. As part of my job, they regularly asked me to write content that could be found on popular search engines like Google and Yahoo.
In order to make sure that my pieces would show up in the top results, I knew I had to understand the basics of SEO, such as how keywords worked. I quickly dove into research around SEO, reading online tutorials and blogs about SEO optimization techniques.
Eventually, I became more knowledgeable about SEO than many of my clients and colleagues, leading me towards becoming an expert in the field.
Antreas Koutis, Administrative Manager, Financer
Migrated from a Different Department
I never planned to become an SEO expert; in fact, I originally planned to become a teacher. I was a TEFL tutor in Taiwan for a couple of years before moving into a corporate job in 2011.
In that job, I was first introduced to the concept of SEO by the head of the organization. As the first person in the organization to tackle SEO, I began learning the ropes to become an SEO specialist. This included staying up-to-date with all of Google's guidelines and avidly reading as many blog posts as I could daily.
Joe Flanagan, Founder, 90s Fashion World
Watched Videos and Implemented the Lessons
SEO was never part of my education; I educated myself on the matter when I started my own blog. I learned how to build a website and I taught myself how to do SEO with a bunch of YouTube videos. Actually, I still do, soaking up all the info out there about SEO to stay up-to-date and relevant to my clients.
Josien Nation, Freelance SEO Specialist, Josien Nation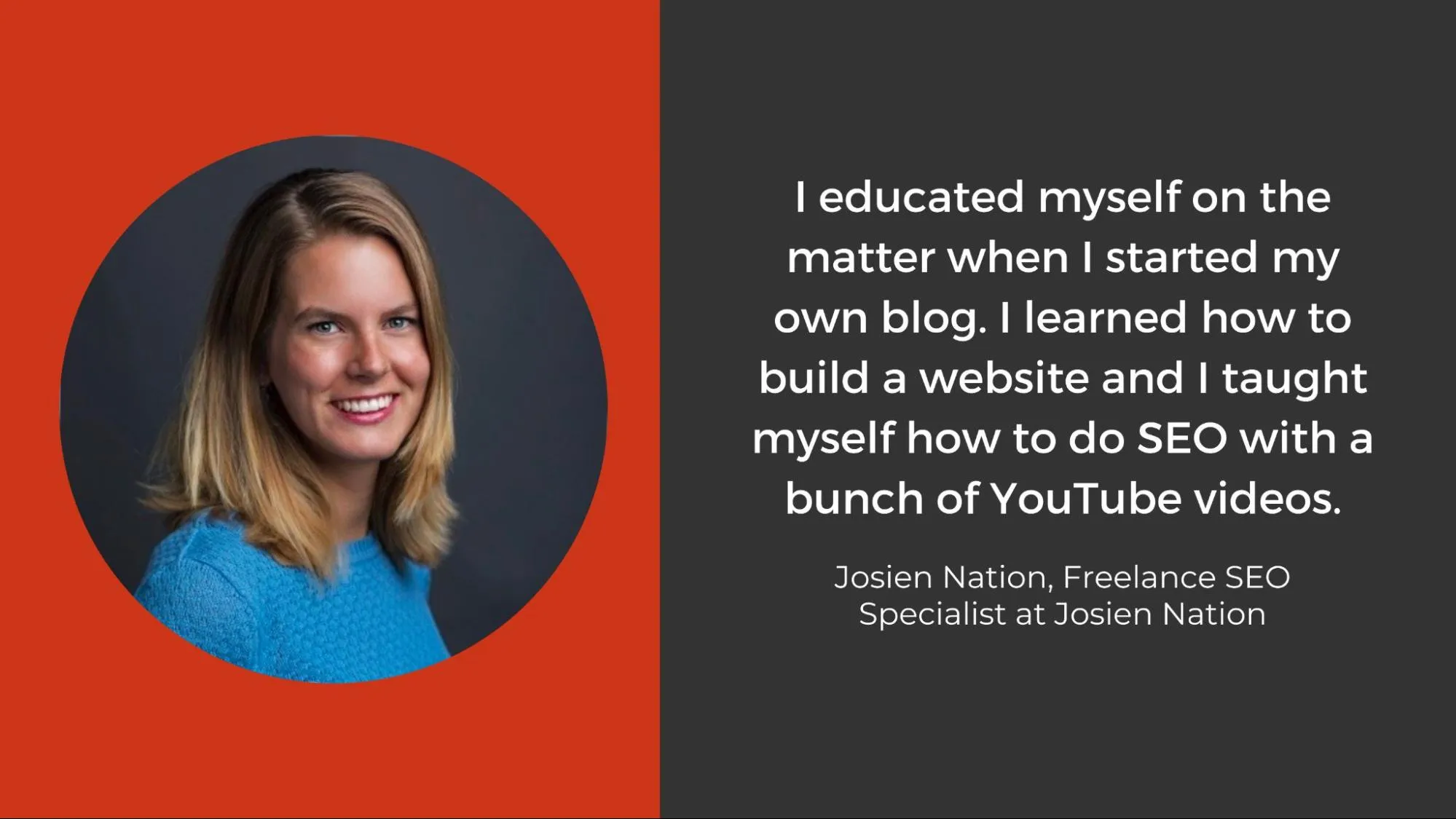 Used My Website to Test My Knowledge and Skills
I dipped my toes in SEO when working for one of my first clients. They used the Yoast WordPress plugin, which covers a lot of SEO basics. It gave me enough foundational knowledge to land a spot on a writing team for an SEO agency, where I learned more about on-page and off-page SEO.
But since I was applying those skills to other clients, I didn't really know if my SEO efforts were working. So, I used my own blog as a test. No amount of reading SEO checklists or articles will ever compare to real-time knowledge application. From choosing keywords to writing content to building backlinks and tracking progress, I learned so much more about effective SEO techniques just by having my own data to go by.
Now, I can use my real working knowledge of SEO to help my clients who trust me to write SEO content for their brands. They expect it to work for them, and I have more confidence in meeting those expectations than I ever did with theoretical know-how.
Alli Hill, Founder & Director, Fleurish Freelance
Hired a Teacher
I became an expert at SEO almost by accident. I was running a soundproofing business, and I wanted to get more traffic online. I figured SEO was the way to go, but I had no clue where to begin. I did some research and found I could hire a teacher online who specialized in SEO.
So, I hired them, and they guided me step-by-step through the process of understanding how search engine optimization works and how I could use it to my advantage. It took some time and hard work, but I eventually picked up the skills I needed to be an expert in SEO. Now, I run my soundproofing business as well as consult for other businesses seeking advice on SEO strategies.
Ludovic Chung-Sao, Lead Engineer & Founder, Zen Soundproof
Practiced to Make Perfect
There isn't any better way for an SEO to truly learn how to drive business outcomes than creating and ranking sites they own and want to monetize. Yes, learning SEO and getting an excellent job by taking courses or reading about different tactics is possible. However, the most in-depth learning and proper understanding come from building and implementing complete strategies when you have something at stake.
I have always had websites for which I built, created content, and tried to rank for lucrative terms. Initially, I was horrible and lost money on all of my sites. That doesn't feel good, and it isn't sustainable. Instead, it forced me to level up my skills and get them to a place where I wasn't just experimenting with keywords and clicks.
In tandem with focusing on qualified leads and sales for my clients, my websites gave me the fuel I needed to get to where I am now in my career.
Ken Marshall, Founder & Freelancer Advocate, Best Freelancer Tools
Was Hit by Google Core Updates
After working on many web projects over the years, I was hit hard by Google's core updates. This led to me becoming increasingly interested in SEO and its ability to make or break websites. I wanted to understand why my sites were being affected and how I could prevent it from happening again in the future, so I began to heavily research SEO, both in terms of theory and practice.
Ultimately, this led me to develop a comprehensive understanding of the various aspects of SEO, including keyword research and optimization, link building, content marketing, and E-A-T.
Burak Özdemir, Founder, Online Alarm Kur
Went Through Plenty of Experimentation
What has benefited me during my career as an SEO is the luck I have had with the diversity of clientele, industry, site size, and strategies. Sure, there has been a theme to the clientele I've worked with, and most of their needs are similar. But for an SEO, the ability to test, iterate, and learn with real-life cases is as important as the basic knowledge one must have.
We need trial and error to help develop best practices for steering a client in the right direction. And the ability to communicate this work becomes easier and easier. And finally, having spent the time to build my own sites, produce content, optimize that content and the site, and monetize those sites, has perhaps been the most invaluable step in becoming an effective SEO for my clients. Having skin in the game makes all the difference.
Paul Lemley, CEO, Digital Authority Group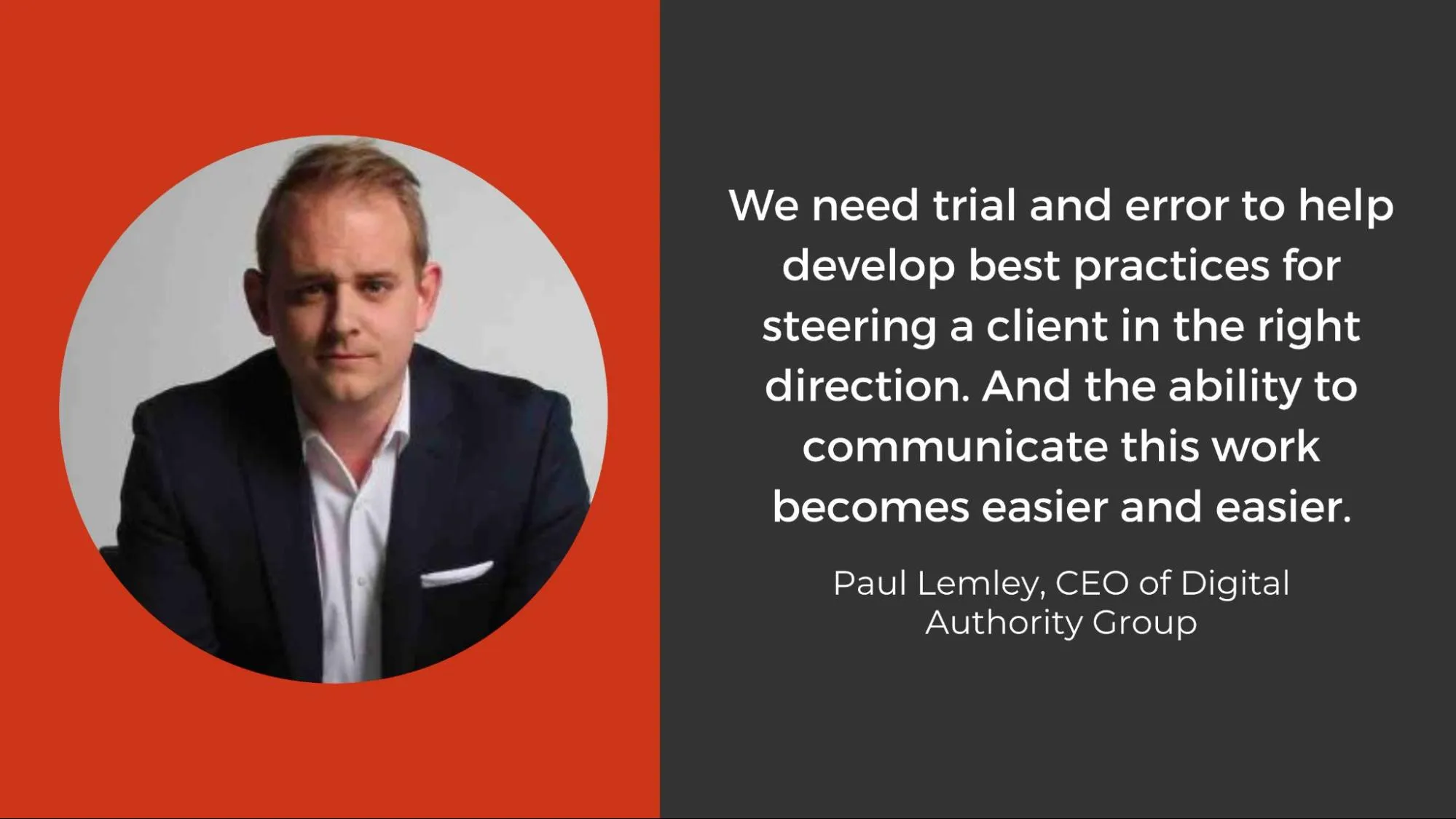 Bought Courses and Took Action
I wish I could say it was easy and always fun, but that would be a lie. They don't teach SEO in school, and even if there was a curriculum, it would be outdated within a few months. Since the world of SEO is always evolving, finding a solid group of SEO professionals to lean on, ask questions, and share knowledge with is critical to your success—and that's exactly how I became an SEO expert.
I bought into several expensive SEO courses and joined many Facebook groups with like-minded individuals, and most importantly, took massive action. I relentlessly tested theories, put into action the things I was learning in the courses, and looked at everything with an open mind. Like most new endeavors, the wins came slowly, but they added up over time, and I soon realized I had a very special skill set that was high in demand.
Jason Moss, President & Co-Founder, Moss Technologies
Cultivated Curiosity
Anyone can learn SEO strategies; it is really not that hard. The hard part is executing those strategies because it's not always straightforward. When I first started, I bought a terrible course with outdated information. What got me good at my craft was realizing that updated versions of lessons being taught in the course were available on YouTube for free.
Additionally, I took the time to call SEO experts who were ranking #1 in their respective search phrases (Los Angeles SEO, Seattle SEO, Portland SEO, etc.) to ask for guidance. Most of them were willing to help, and instead of teaching me how to do things, they told me what to do. It was up to me to teach myself how to execute. The first task was simple: build a website and rank it. Once I proved that I am a capable SEO expert, new opportunities presented themselves.
Nick Varga, Chief Riding Officer, ERide Journal
Found Free Information Online
I am a full-time professional travel blogger, and SEO is at the heart of most of my work. It's my primary method for getting people to read what I write. I learned everything I know about SEO from reading articles online and taking online courses.
There's so much free information on SEO available online that it can be a little confusing at first. I recommend starting with articles written by reliable expert sources like Ahrefs and Neil Patel. These guys are outstanding teachers and have YouTube channels that contain a wealth of useful information.
If you have a budget to invest in your learning, I also recommend taking an online course or two on SEO. Of course, read the reviews carefully before parting with any cash. I learned the rest of what I know about SEO through trial and error.
I've been blogging for quite a while now and have learned a lot from both my successes and my failures. Ultimately, the more you do something, the better you get at it. This is the same in SEO as in most things.
Alex Tiffany, Founder, Just Go Exploring
Submit Your Answer
Would you like to submit an alternate answer to the question, "How did you become an expert in SEO?"